8 min. read

Lee Craigie is the Active Nation Commissioner for Scotland, an official representative of walking, cycling and physical activity across the nation. A former professional mountain bike racer and director of the Adventure Syndicate.
Can you briefly introduce yourself, and what your role as Active Nation Commissioner for Scotland entails?
I'm Lee Craigie, and I'm the ambassador for active travel for Scotland. It's a 2 days/week post funded by Scotland Transport, but I'm independent, which is a real privilege. For 10 years, I rode my bike for a living. I was on the world cup circuit, a mountain bike racer and at the same time I was a child and adolescent psychotherapist (outdoor instructor) helping young people explore how they feel about themselves through outdoor activities.
I think it's quite an unusual way into this role. I don't have infrastructure or policy expertise, I'm very much about people and behaviour change. Interestingly, the idea that I came from a sporting background has been both a positive and a negative in this role. But I'm sure we will get into the intricacies of that in this conversation.
These can often be seen in opposition – how do you think that sports cycling can be positioned to promote everyday cycling or explore future topics?
I think we shouldn't see sport in opposition with everyday cycling, or what should really be framed as everyday joy. I can see why setting them up in opposition may be helpful to groups that are against wearing helmets, lycra, and the idea of needing to be athletic to ride a bike. Sport is a great inspirer and motivator, of course not for everybody, but for young people that have not associated that competitive element with real stress and the negative parts of competitive sport, that are just moving their bodies and getting excited, it can be a useful tool to get them going out and riding in their neighbourhoods.
It feels as though it would be much better if sport and everyday cycling were not such defined lines, and that young people could choose their own idea of what riding bikes means to them. When I was involved in Scottish cycling and was trying to encourage more youth participation, I was always struck that the countries that did really well were those that didn't put a focus on performance, it was just about getting them excited about moving their bodies. There was no judgement attached to speed or competition, it was just about young people having fun.
Sport cycling and everyday cycling in many countries has an image problem – what are some ways to begin to address this and diversify cycling, to make it something that people from all walks of life can access and identify with?
The answer to that is multifaceted. Of course policy and infrastructure development has shown it helps diversify cycling by creating safer conditions to ride, as well as a layer of social infrastructure programming. Ultimately, we need to change the narrative to make it more permissive. Letting go of ideas of what it means to be physically active. As humans, we want to be part of clubs of things, have uniforms and dress the same way, and be accepted. We often elevate these needs for belonging to an elite status and we perpetuate certain myths of excellence to participate. We need to let go of our egos on that – you can ride your bike in a skirt, you don't need to wear a helmet, it's fine if you get a little dirty, and you can make your own decisions about where you go.
We also really need to listen to the barriers that people face. We think we know why certain people don't ride bikes, but until we sit down at the table and have a conversation with them we don't really know. Inspiration is really important, and sport can provide these role models, adventure films can also help, but of course in some instances it's just about getting people together in groups so they can support each other on an individual basis.
You are also the director of the Adventure Syndicate, can you talk to me a little about the mission and vision of this collective?
I set up the initiative just as I was getting out of international cross-country racing. It felt to me that we were missing a trick in engaging more people in discovering the joy of being active and outdoor. It felt important to have diversity and representation, so we chopped down the pedestals of people that claimed certain spaces, and tried to nudge the boundaries of what people were capable of doing.
Starting to cycle is such a personal journey. For some people, just getting up on a bike is enough for a day, and for others they won't feel satisfied unless they have ridden 100 miles. And all of it is relevant and important, so others can look at these people and feel like it could be something for them.
So I stepped away from sport and started to try and encourage collectives of people that identified as women in particular to adventure together and support each other in these adventures. Before I knew it there were lots of women who were getting in touch and getting involved.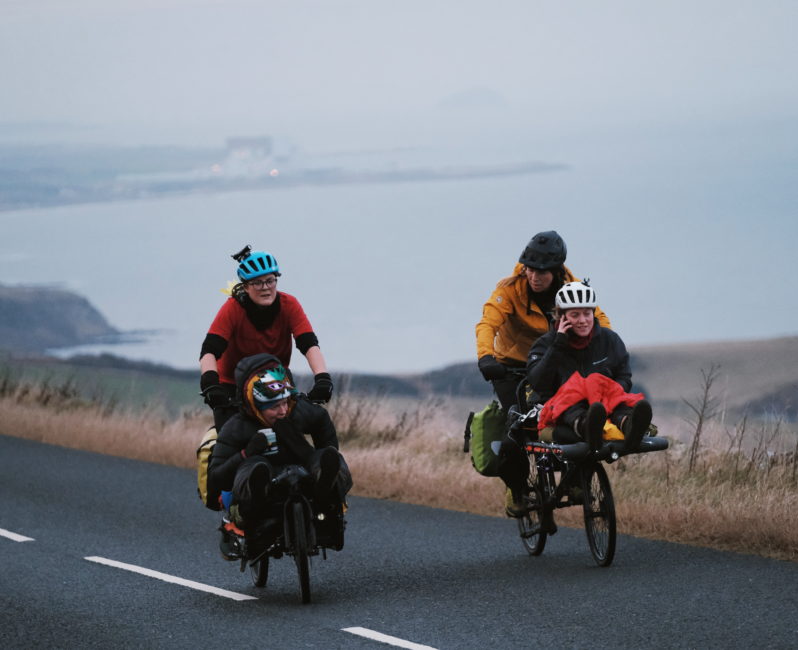 One of the projects which really struck me was the Resolution Race – can you speak a little of the initiative, and the choice of cargo bikes. Was that intentional in bridging the gap between adventure or endurance cycling and everyday cycling?
That was such a fun project. Four women, in pairs on cargo bikes, carrying each other and swapping every hour, riding from Edinburgh to Copenhagen. It was also in winter, between Christmas and New Year. We did it because it was a fun way of engaging people to think about physical challenges in a different way and how we get around in a different way, hopefully not in a preachy manner.
The four of us would not have been able to surmount this challenge without cooperation, communications, collaboration, and giving up our sense of self. It was a total team effort and not a heroes' journey, inching our way to Copenhagen together.
We did it on cargo bikes not because we think cycling your partner 1000 kilometres in a day in the winter will solve the transport and health crises. However, cargo bikes can do amazing things, and highlighting that was definitely part of the mission. If you can replace just one everyday journey with cycling we will make a big change to our carbon reduction targets. We thought that if someone saw this and was inspired, maybe they would start thinking that taking their kid to school was in fact feasible.
Ultimately, it was a story of friendship, collaboration, and mutual care, which I think is something that's often omitted from adventure stories. It's often about solo conquering heroes which for me isn't as engaging.
You have highlighted that in sports, certain characteristics like competitiveness, winning, and strength overshadow others like cooperation and care. Could you expand on this and highlight how you apply this in your various roles?
If we could take the true learnings from sports or outdoor experiences, the care, the collaboration, and gentle, flexible strength, and apply them to our politics, business and relationships, we would all be a much happier species. Importantly, I also think we would be more successful. Success and growth is a controversial subject, and it's not one that I necessarily subscribe to, but it's a motivating factor and mustn't be ignored. Caring and being flexible, and being able to manage stress and not losing the touch of the important things are performance enhancers.
Any last points about sports and everyday cycling?
I definitely see how people could look at cycling and think it's quite a niche agenda. But the potential for every day cycling is so much bigger than it appears. If we can create the conditions that allow people to move for transport in this way, we don't just solve carbon emissions problems, but also health crises, connect communities in a better way, increase social justice. If we are able to convince those that choose to drive to do so less, the impact that this will have on street life, in a fairer way.
We are good at listening to the voices of those that shout very loud, the ones that often have the most money and burn the most oil, but we're not as good as listening to the maybe softer or more quiet voices that don't have as much of a seat at the table.
On the issue of sports, I've spoken a lot about the need for care and support, but I also want to say that it's really important that we don't demonise those that show sporting prowess, especially women. I was so put off about the discourse surrounding Serena Williams in tennis for example. She was called aggressive and determined in a very derogatory way, and I really wonder if they would have done that if she was a man. So it's ok, if you have these fierce tendencies and want to win and compete in sports cycling. As a society we need to embrace that as much as we embrace the other. It's having that diversity of people that we should be encouraging.
All Images: *****